Automatic Longitudinal Axis Paper Bowl Forming Machine
| | |
| --- | --- |
| Unit Price: | 1 USD |
| Min. Order: | 1 Set/Sets |
Basic Info
Model No.: RD-LB120-3600B
Product Description
Automatic Longitudinal Axis Paper Bowl Forming Machine RD-LB120-3600B Type
Technical parameters: RD-LB120-3600B automatic paper bowl molding machine is a new type of high-speed paper bowl machine developed by our company on the basis of many years of paper cup machinery manufacturing experience....
Cups Specifications: Paper Cup Specifications 6-32 oz
Paper Specifications: paper specifications g/㎡180-350
Speed: production speed 55-60 pcs/min
Power Power supply : 380 v 50Hz /220 50HZ
General Power : total power 8KW
Gas Gas source: m³/min 0.3-0.5
Weight: weight kg 2500
Packing size Packing Dimensions: x1200x1580mm 2600(LxWxH)
RD-LB120-3600B new paper bowl molding machine is a fully automatic paper cup (paper bowl) molding equipment, through multi-row automatic paper feeding, paper anti-return device (to ensure accurate positioning), ultrasonic welding, mechanical toilet paper tube transfer, oil injection, bottom flushing, bottom folding, preheating, knurling, cup unloading and other continuous processes, can stabilize the production of various different specifications of paper cups, is our company's own research and development of comprehensive technology to improve the stability of the whole machine paper cup equipment.
1. increase the output of finished products. It was 35-45 in one minute, Now it can reach 50-60 per minute. While increasing production, The power consumption is still about 6 KW (usually 60/ min machine power consumption is about 10 KW), Paper cups at 55-60 minutes, Paper bowl speed at 50/ min.
2. bottom paper adopts stepper motor to feed paper, so that the gap between the bottom paper is controlled at about 0.1 mm, which is more stable and saves material. At the same time, under the cooperation of the light eye, there is a paper tube to send the bottom paper, and no paper tube to send the bottom paper, which can avoid the waste of the bottom paper.
3. internal structure adopts longitudinal shaft to drive gear transmission system to avoid chain loosening of traditional equipment and prevent dislocation.
Automatic lubrication system is adopted 4. the internal structure to reduce the friction between the components, and to avoid the frequent manual oil addition and other maintenance work, which greatly improves the maintenance of the equipment.
5. the device uses light-controlled contactless multi-point switch (such as paper rack, cup tube, bottom paper, lower cup, etc.) to detect abnormal work, realize automatic fault alarm and stop, protect all parts of the machine from collision, and improve the stability and life of the machine
6. holding position uses left and right independent cam to drive left and right cup clip, no noise when working, stable and reliable holding action, is the first technology in China.
7. main motor of the whole machine adopts deceleration motor (Shanghai Zhibao), which saves separate deceleration box and motor, simplifies and stabilizes the transmission system.
8. machine frame adopts A3 iron plate, drive shaft uses 4 steel, special material uses Cr 12( Luo 12), the stability of the whole machine is greatly improved.
RD-LB120-3600B automatic paper cup forming machine is our latest machine ,which is made base on our manufacturing experience and advanced technology from oversea countries,it is a pioneer equipment in China.The machine comes with rectangle tube and channel steel welding structure,which is stronger and small deformation,automatic lubrication system,which makes all mechanical parts working much more smoothly.The cup bottom adopts the stretching die which make the bottom sealing quality better and less leaking percentage.It has PLC control,sensor failure detecting system, cup bottom paper feeding controlled by servo motor,bottom paper will be delivered when cup tube comes,otherwise no bottom paper delivery.The machine has safety guard to protect the people working safely,it is the best choice for making paper cups.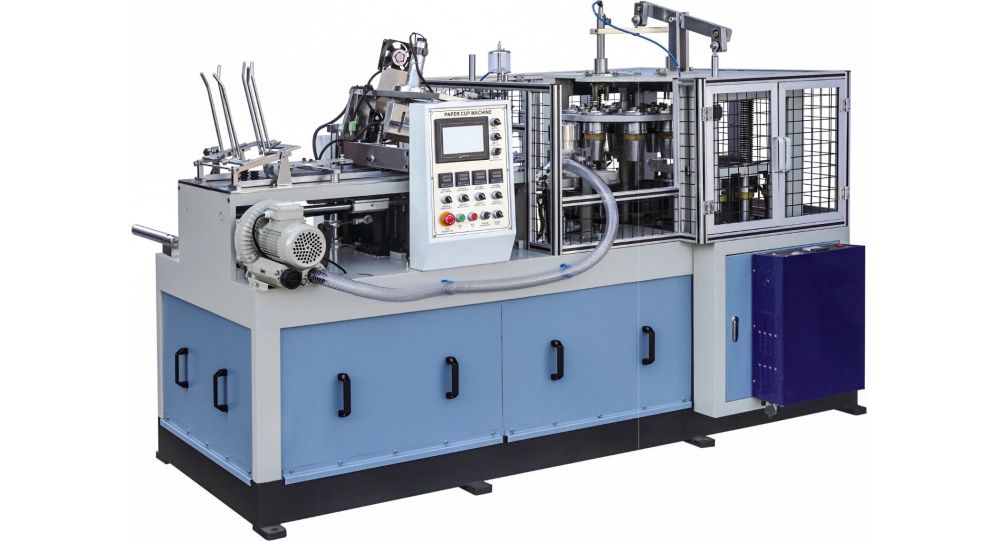 Core Value Service Ends Yingkou Yuyuan Industrial Co.,Lit
Yingkou Yuyuan Industrial Co.,Lit, Founded in 2003,Registered capital 80.000.000RMB(10.000.000EU).Located in the Bayuquan of city Yingkou ,Province Liaoning China.
Our company`s mission is to help entrepreneurs quality products made in china easily and securely direct from Chinese factories,and you could enter site:https://www.made--in--china.com/ to look for what products you need made in china.
Our company keep working on the international market,in 2006 ,founded [Oversea Economic Trade and Cooperative Zone - S.C Meteor International Import &Export S.R.L ROMANIA ", Business covered to Central and Eastern European.
And in 2005, Approved by Liaoning Province as [Province-level Oversea Economic And Trade Cooperation Zone"in ROMANIA.
In 2020 ,Approved by Liaoning Province as "Department Of Commerce Of Liaoning Province Business Representative Office [In Romania.
According to the require of the international market network, we have already built the biggest oversea warehouse in Romania-European,and the first "China Commodity (European) Exhibition and Trading Center",and created the site- https://www.made--in--china.com/,realized a marketing model combining online and offline products made in china.
Company Name: Core Value Service Ends Yingkou Yuyuan Industrial Co.,Lit
Representative: Liushiyu
Product/Service: Plastic Additives , Plastic Machinery /made in china , Plastic Packaging Products , Gardening Tools , Auto Parts/ made in china , Home Decoration Materials
Capital (Million US $): 80,000,000RMB
Year Established: 2003
Contact Person: Mr. Zhou
Tel: 0086-417-6237404